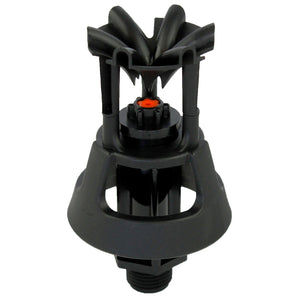 Xcel High Angle Wobbler
The TWSS High Angle Wobbler provides instantaneous coverage over a large area. It distributes water in an extremely uniformed rain like pattern, that resists wind drift and evaporation.
The TWSS Wobbler is ideal for Frost Protection, Dust Suppression, Germination, Nursery, Cropping, Horticultural and Agricultural purposes etc.
Counter-Balance Reduces Vibration For a Smooth, Stable Performance

Only One Moving Part - Which Translates to Longer Life

Low Wind Drift And Evaporation Loss At Low Pressure

15 mm (½") BSP/NPT Connection

Colour Coded Nozzles For Easy Size Identification

Diameters of Coverage 11 m - 17 m

Constructed From UV Resistant Material
Specifications 
If Measuring your Thread with a Tape or Ruler - ½" / 15mm BSP = 19.8mm
If you need any assistance with your purchase, simply call 0800277594 or email us at info@twss.co.nz

Working Pressure
1.0Bar
1.5Bar
2.0Bar
2.5Bar
3.0Bar
Code
Nozzle Color / Dia
Flow (M3/h)
Radius (m)
Flow (M3/h)
Radius (m)
Flow (M3/h)
Radius (m)
Flow (M3/h)
Radius (m)
Flow (M3/h)
Radius (m)
XW3602
Orange 2.8
0.24
5.2
0.31
6.8
0.38
7.1
0.44
7.6
0.48
7.6
XW3603
Red 3.2
0.31
5.4
0.42
6.9
0.5
7.5
0.57
7.6
0.63
7.7
XW3604
Green 3.6
0.39
5.5
0.52
7
0.62
7.5
0.71
7.7
0.78
7.8
XW3605
Blue 4.0
0.48
5.8
0.65
7.1
0.77
7.6
0.9
7.8
1
7.9
XW3606
Black 4.4
0.59
6.5
0.79
7.4
0.94
7.9
1.08
8
1.22
8
---