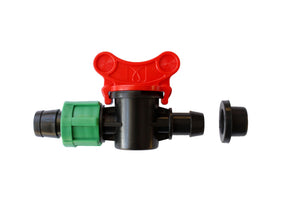 Lock Tape Maxi Valve With Grommet Take Off
TWSS Maxi Valves are used to isolate zones or rows. The Water Sprinkler Shop Maxi Valves are made of high quality plastic. They are a reliable high quality valve for low pressure applications.

The TWSS Lock Tape Maxi Valve with Grommet Take Off is an economical, easy-use lock nut fitting for drip tape. Made from high quality material, with UV protection and anti-aging, can be used for drip tape with thickness from 0.15mm to 0.6mm. An extremely reliable connector (fastened by a nut), easily opened (when required).
Simple On / Off operation
Flow Indicator Handle
Max Pressure 300 KPA
UV Stabilised Material
To Fit 32mm and above Poly or PVC - 16 or 17mm Driptape
Easy to Install Top Hat Grommet (16mm Hole)
SKU: OV031715R
---