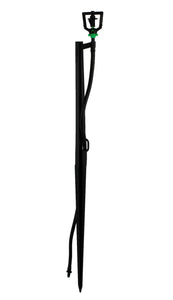 Micro Sprinkler with 50 cm Stake & Fittings
Description
TWSS Assembled Micro Sprinkler and 50 cm Stake and Fittings saves you time on assembly in the orchard or home garden. The set consists of a high 50 cm Stake, 50 cm DN Pipe with Fittings on both ends and Standing Micro Sprinkler.
All Quality Plastic Parts
Assembled 50

 cm Stake and Fittings

 with 50 cm Pipe
Micro Sprinkler With a Choice of Flow of 30, 50, 75 and 90 Litres
Ideal For Orchards or Greenhouse Applications
High Uniformity With a Gentle Consistent Droplet Size
Bayonet Nozzle For Easy Cleaning
Ready to Use
UV Resistant
Please Note Some Assembly Maybe Required Putting Sprinkler Head onto Complete Stake and Fittings.
SKU: MSCOM50
Specifications

---