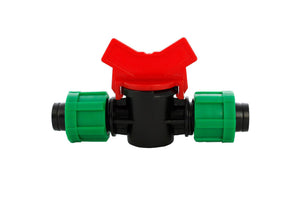 Lock Tape Coupler with Valve 17DN
TWSS Maxi Valves are used to isolate zones or rows. The Water Sprinkler Shop Maxi Valves are made of high quality plastic. They are a reliable high quality valve for low pressure applications.
The TWSS Lock Tape Coupler with Valve is an economical, easy-use lock nut fitting for drip tape. Made from high quality material, with UV protection and anti-aging, can be used for drip tape with thickness from 0.15mm to 0.6mm. An extremely reliable connector (fastened by a nut), easily opened (when required).
Simple On / Off operation
Flow Indicator Handle
Max Pressure 300 KPA
UV Stabilised Material
To Fit 16 mm - 17 mm Drip Tape
SKU: LV0117
---