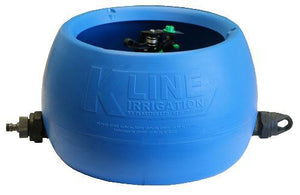 Lifestyle 1 Pod DIY
Due to Covid, With Restrictions in the Factory and Delays with Receiving Materials, Production of This Product is 1 - 2 weeks From Ordering. This Production Time is Subject to Change, and RX will Try Their Best to Cut That Production Time Down. Contact Us at info@twss.co.nz For More Information.
There is a Separate Delivery Charge for this Item Due to its Size, Delivery will be a Flat Rate of $28.75 to Urban or Township Delivery or $172.50 For Any Rural Area Within New Zealand. Delivery Will Be Straight From the Factory.
K-Line Irrigation is a revolutionary, specially formulated, flexible tubing line and pod sprinkler system designed to reduce the time and money you spend on irrigation installation, operation and repairs. Easily installed, a perfect DIY project.
K-Line irrigation is a low pressure system designed to distribute water with a slow, efficient absorption method that eliminates the need to shift irrigation several times a day - saving time, labor and water resources. K-Line irrigation uses less water more effectively.
Features
Tough K-Line Pod
Adjustable Full or Part Circle Sprinkler
Spray Coverage 23 - 26 Metres Diameter (11.5 m - 13 m Radius)
Easy Installation and Operation
Low Maintenance
Low-Pressure for Water Efficiency
Applications
Ideal for the Irrigation of Lawns and Boarders
Suitable for Unusual Shaped Areas
Uneven Landscapes
Lifestyle Blocks and Family Homes
Sprinkler is Adjustable to Variable Distances
Kit Includes
K-Line Pod
Naan 427 Sprinkler 

with 3.2 mm Nozzle

Hose Adaptor
Tow Hook
For our Australian customers, please contact us info@twss.co.nz for a separate freight rate for shipping this item to Australia.
SKU - KL1POD
---