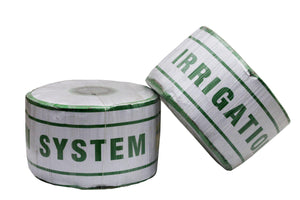 Driptape 16 mm Thickness 0.50 mm (20 mil) (1000 mm / 1.5 L/H, 1000 M)
The Water Sprinkler Shop driptape is a extruded lightweight integral driptape that incorporates state of the art injection molded turbulent flow emitters inside the tubing. The tubing lays flat on the reel for ease of shipping and installation, becoming round under field water pressure. Both the tubing and the drippers are manufactured from the finest quality resins using high-tech equipment to form a product which emits water uniformly from each emitter, year after year.
The emitter is engineered to resist plugging with large flow path size having the largest cross section in the industry worldwide.The Driptape's extremely low manufacturing coefficient of variation, CV, ensures water will flow uniformly from each emitter. High tensile strength resins and unique one-piece manufacturing methods achieved without the risk of bursting the tube. The Water Sprinkler Shop products versatility fulfills the needs of most crop applications including vegetable, field crops, vineyards, fruit, nut and other tree crops.TWSS Driptape is reeled with fully automatic state of the art equipment to ensure consistent wrapping and ease of automated field installation.
 Driptape 16 mm 

Thickness 0.50 mm (20 mil)

Emitter Spacing 1000 mm 

Flow Rate 1.5 L/H

Roll Length 1000 Meters 

Maximum Operating Pressure is 1.2BAR

Application for Driptape and Emitter Spacing Recommendations
10cm - All Crops
20cm - Chili, Cut Flowers, Melon, Onion, Pepper, Potato, Strawberry, Tomato
30cm - Alfalfa, Asparagus, Banana, Broccoli, Cauliflower, Celery, Corn, Cotton, Cucumber, Eggplant, Garlic, Ginseng, Grape, Leafy, Vegetables, Lettuce, Onion, Pepper, Potato, Pumpkin, Rose, Spinach, Squash, Strawberry, Sugarcane, Tobacco, Tomato, Turnip, Watermelon
100cm – Shelter Trees, Berry Crops, Grapes
 SKU: DT01165010015
---