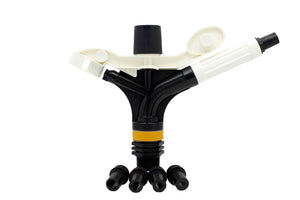 Dual Nozzle Plastic Full Circle Impact Male 32 mm (1 ¼") with Booster Tube
TWSS 32 mm (1 ¼") Male Plastic Full Circle Impact Sprinkler is made of high quality solid plastic construction. The 80 Series full-circle impact distribute water evenly at higher flows over a large diameter. The Water Sprinkler Shop 8025 Impact Sprinkler offers high distribution uniformity.
The Booster Tube Provides a 5 to 10% Increased Radius of Throw Over Range Nozzle Performance.
High Flow Agricultural Impact Sprinkler 
Operating Pressures: 40 to 70 psi (2.76 to 4.83 BAR)
32 mm (1 ¼") Male Connection
Dual Nozzle
Selection of 5 Nozzles Sizes 
Made of High Quality Plastic and Stainless Steel
Reach (Radius) of 23.5 – 29.5 M
Application Area of a Full circle
Rotation Time Will Depend on The Pressure
Rotation Will be Constant And Continuous
SKU - 6029SD
Specifications 
If Measuring your Thread with a Tape or Ruler - 1 ¼" / 32mm BSP = 40.4mm
If you need any assistance with your purchase, simply call 0800277594 or email us at info@twss.co.nz
---