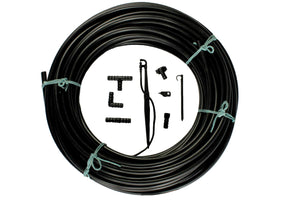 50 m Sprinkler Kit
This easy to assemble kit uses good quality product's from our range. The Micro Sprinklers are spaced 3 metres apart and give excellent coverage, with a radius of 3 metres. There are enough sprinklers spaced out to do up to 50 metres of garden. This kit is supplied with Elbows and Tee Fittings to suit most garden layouts. Hold Down Stakes are supplied to keep the Lateral Pipe where you want it.
Extra fittings are available if required, and a Tap Time can be added if required for automatic watering.
See example layout diagram for installation instructions, a printable PDF is below.
Sprinkler Kit Contains:
50 m of 16 mm Lateral Pipe
15 x 70 L/H Sprinkler on Stake
1 x Tap Connector With Filter
6 x 16 mm Elbows
3 x 16 mm Tees
3 x 16 mm End Line Plugs
2 x 16 mm Straight Joiners
20 x 16 mm Hold Down Stakes
1 x Punch
SKU - 50MSPKIT
---